Nov. 14, 2008 --- G.W. 27 Brooke Point 21
---
Another big comeback!!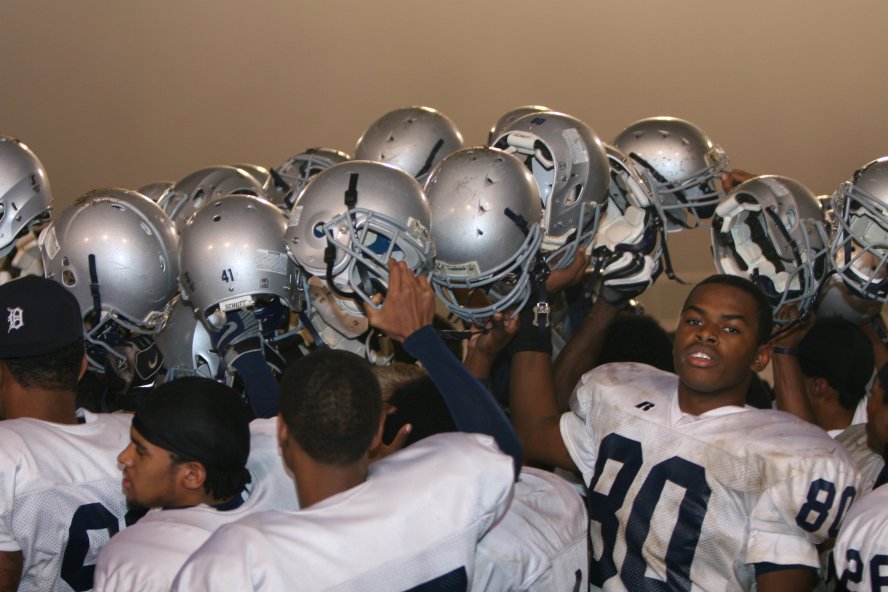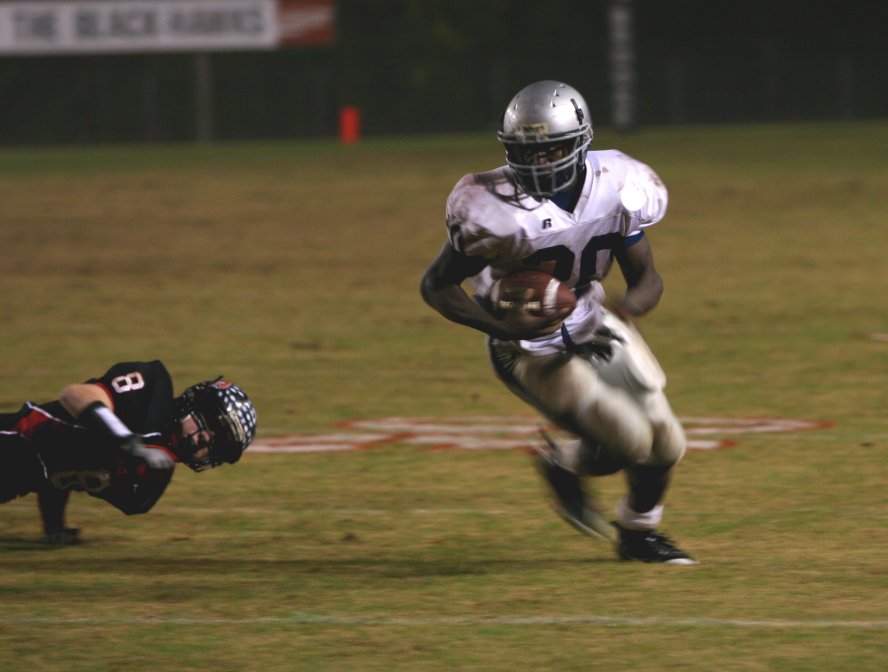 David Wilson leaves a defender in the dust, en route to one of his four touchdowns!
(Photos courtesy Chuck Sexton)
A strong second half propelled the G.W. Eagles to their first road playoff win in 14 years as they topped Brooke Point, 27-21. The Eagles had only one play of more than four yards in the entire first half---a 53-yard run from David Wilson. In the second half, the Eagles forced a fumble on the BlackHawks' first drive. David Wilson made them pay four plays later. The Eagles defense then forced a Brooke Point punt. This time, it took Wilson only three plays to get into the end zone. But a Brooke Point score with 2:32 remaining appeared to give them a 21-20 lead. That's when the Eagles took to the air. Brooke Point got the ball with 1:38 and moved it downfield. But with 1.5 seconds to go, 21 yards away from paydirt, the Eagles' defense came up big!! On to the Regional Championship!!
---
GAME STATS
TEAM STATS
| | | |
| --- | --- | --- |
| | G.W. | OPP. |
| First Downs | 3 | 17 |
| Rushes-Yds | 26-208 | 28-114 |
| Pass YDs | 73 | 243 |
| C-A-I | 3-6-0 | 25-39-1 |
| Total Yards | 281 | 357 |
INDIVIDUAL STATS
| | | | | |
| --- | --- | --- | --- | --- |
| RUSHING | ATT. | YDS. | Avg. | TDs. |
| Wilson | 13 | 133 | 10.3 | 3 |
| Goods | 11 | 73 | 6.7 | 0 |
| Benion | 2 | 2 | 1.0 | 0 |
| | | | | | |
| --- | --- | --- | --- | --- | --- |
| PASSING | ATT. | Comp. | Yds | TDs. | Int. |
| Moore | 6 | 3 | 73 | 1 | 0 |
| | | | | |
| --- | --- | --- | --- | --- |
| RECEIVING | NO. | YDS. | Avg. | TDs. |
| Wilson | 2 | 65 | 32.5 | 1 |
| Clifton | 1 | 8 | 8.0 | |
| | | | |
| --- | --- | --- | --- |
| KICKING | XPM-XPA | FGM-FGA | Pts. |
| Smith | 3-4 | 0-0 | 3 |
| | | | | |
| --- | --- | --- | --- | --- |
| INT. | No. | | SACKS | No. |
| Wilson | 1 | | Morrison | 3 |
| | | | Goods | 1 |
| | | | | | | | |
| --- | --- | --- | --- | --- | --- | --- | --- |
| SCORING | RUSH TDs. | Rec. TDs | Ret. TDs | XP | FG | Sf. | Points |
| Wilson | 3 | 1 | 0 | 0 | 0 | 0 | 24 |
| Smith | 0 | 0 | 0 | 3 | 0 | 0 | 3 |
---
SCORING
(1st Quarter)
BP: Reed 36 run (Collins pass from Hudson) 5:12re
G.W.: Wilson 53 run (Smith kick) 4:19re
(2nd Quarter)
BP: Lowe 19 pass from Hudson (kick blocked) 10:19re
(3rd Quarter)
G.W.: Wilson 24 run (Smith kick) 7:43re
G.W.: Wilson 35 run (kick failed) 2:48re
(4th Quarter)
BP: Lowe 38 pass from Hudson (Hodgen kick) 2:32re
G.W.: Wilson 67 pass from Moore (Smith kick) 1:38re
---