Aug. 24, 2011 --- G.W. 16 Petersburg 0
---
Bobby Ball!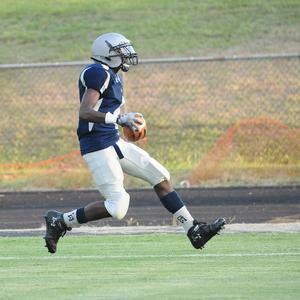 Malik Clements returns an interception 33 yards for a touchdown!
(Photo Courtesy Danville Register and Bee)
Using the strategy that made his college coach a national name, Bobby Martin's Eagles used defense, special teams, and a strong running back to win the first game in Martin's tenure. The defense accounted for the only points of the first half, when Sophomore Free Safety Malik Clements picked off a pass and scored from 33 yards out! He later added a second interception---one of three G.W. picks on the night. In the second half, special teams set up a score as Jeremiah McGeough drilled a PERFECT coffin corner punt to the one! Two plays later, the Eagles tackled a back in the end zone for a safety to take a 9-0 lead. After returning the free kick to the Petersburg 35, Travis Jones sealed the deal from eight yards out, giving the Eagles their first season-opening shutout win since 1993.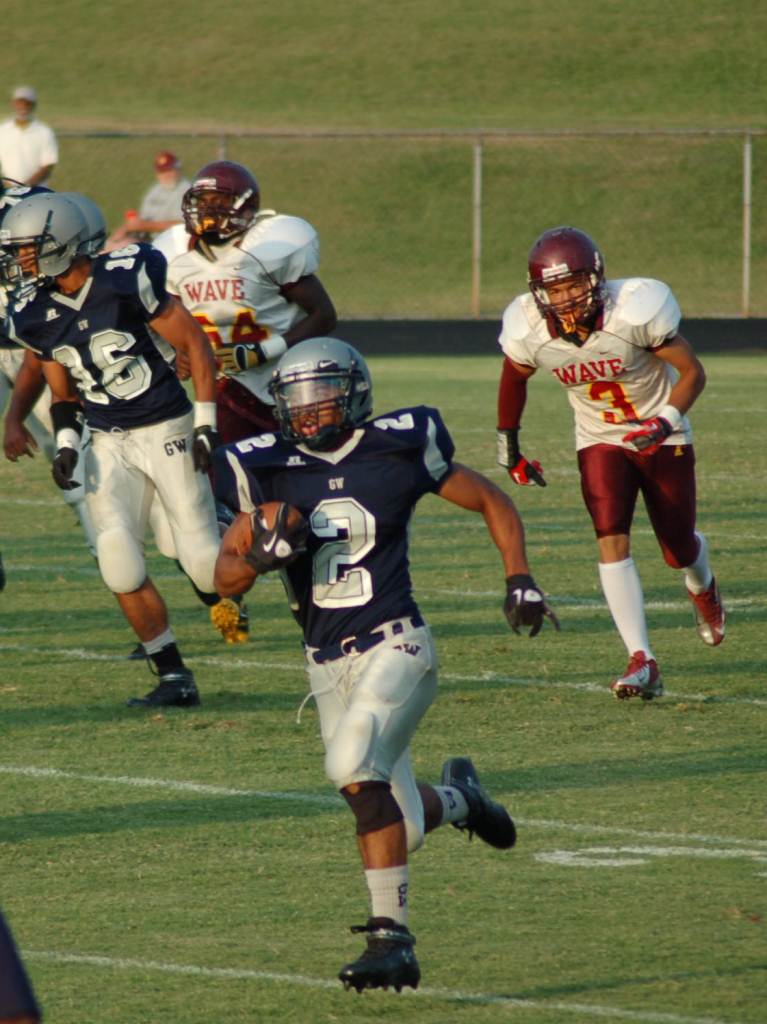 Travis Jones reverses the field for 49 yards!
(Photo courtesy Sarah Brown)
---
GAME STATS
TEAM STATS
| | | |
| --- | --- | --- |
| | G.W. | OPP. |
| First Downs | 11 | 8 |
| Rushes-Yds | 37-171 | 31-45 |
| Pass YDs | 33 | 5 |
| C-A-I | 5-13-0 | 2-9-3 |
| Total Yards | 56 | 204 |
INDIVIDUAL STATS
| | | | | |
| --- | --- | --- | --- | --- |
| RUSHING | ATT. | YDS. | Avg. | TDs. |
| Jones | 20 | 131 | 6.6 | 1 |
| Hairston | 9 | 43 | 4.6 | 0 |
| Lewis | 2 | 7 | 3.5 | 0 |
| | | | | | |
| --- | --- | --- | --- | --- | --- |
| PASSING | ATT. | Comp. | Yds | TDs. | Int. |
| Hairston | 13 | 5 | 33 | 0 | 0 |
| | | | | |
| --- | --- | --- | --- | --- |
| RECEIVING | NO. | YDS. | Avg. | TDs. |
| Jones | 3 | 21 | 7.0 | 0 |
| Martin | 1 | 15 | 15.0 | 0 |
| Clements | 1 | -3 | -3.0 | 0 |
| | | | |
| --- | --- | --- | --- |
| KICKING | XPM-XPA | FGM-FGA | Pts. |
| McGeough | 2-2 | 0-1 | 2 |
| | | | | |
| --- | --- | --- | --- | --- |
| INT. | No. | | SACKS | No. |
| Clements | 2 | | Ak. Smith | 1 |
| Jones | 1 | | | |
| | | | | | | | |
| --- | --- | --- | --- | --- | --- | --- | --- |
| SCORING | RUSH TDs. | Rec. TDs | Ret. TDs | XP | FG | Sf. | Points |
| Jones | 1 | 0 | 0 | 0 | 0 | 0 | 6 |
| Clements | 0 | 0 | 1 | 0 | 0 | 0 | 6 |
| J. Davis | 0 | 0 | 0 | 0 | 0 | 1 | 2 |
| McGeough | 0 | 0 | 0 | 2 | 0 | 0 | 2 |
---
SCORING
1st -- GW – Clements 33 Interception return (McGeough kick) 1:06
4th -- Safety...Jones tackled in end zone 11:54

4th -- GW – Jones 8 run (McGeough kick) 11:24
---