Sept. 30, 2005 --- G.W. 36 Reidsville 35
---
Whoa Nellie!!!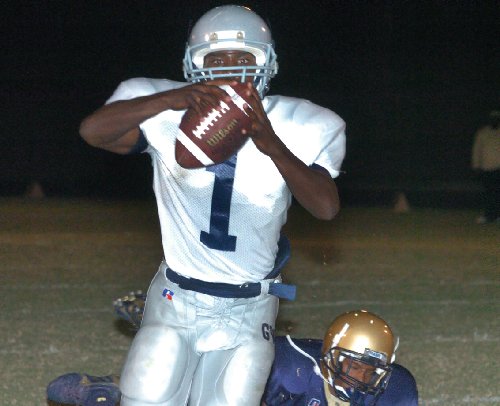 Travis Tarpley hauls in one of 3 touchdown passes against Reidsville
(Photo courtesy Julian Henderson, Register and Bee)
The G.W. Eagles were done----stick a fork in them. Reidsville had just returned an interception for a touchdown with a minute left in the first half to take a 28-7 lead. Someone forgot to send the message to Dan Newell and the Eagles! T.J. Price hooked up with Travis Tarpley just before the half to make it 28-14. Then the Eagles scored on their first two second-half possessions to tie it at 28-28. The Rams marched downfield and scored to take a 35-28 lead with 1:44 left. That was enough time for T.J. and Travis to hook up again with 42 seconds left to make it 35-34. Rather than go for the extra point and the tie, Dan Newell elected to go for two. He got it, on a great pass from T.J. to John Gregory! WOW!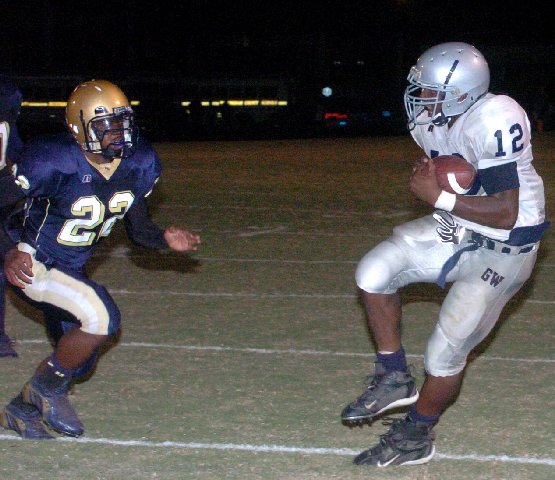 John Gregory with the game-winner!!!!!
(Photo courtesy Julian Henderson, Register and Bee)

Anthony Hall makes the stop
(Photo courtesy Reidsville Football. com)


John Gregory picks up a few yards
(Photo courtesy Reidsville Football. com)


Marcus Dodson gets physical
(Photo courtesy Reidsville Football. com)


Rashaan Swann seals the corner
(Photo courtesy Reidsville Football. com)


Ray Bracey kicks another extra point.
(Photo courtesy Julian Henderson, Register and Bee)

Herbie Wiliams gets an escort from Darrell Fuller
(Photo courtesy Julian Henderson, Register and Bee)

T.J. Price pounces on a fumble
(Photo courtesy Julian Henderson, Register and Bee)

John Gregory takes down the Reidsville QB.
(Photo courtesy Julian Henderson, Register and Bee)

Haylen Murphy looks for yardage.
(Photo courtesy Julian Henderson, Register and Bee)

John and Travis celebrate Gregory's 19-yard TD run.
(Photo courtesy Julian Henderson, Register and Bee)

T.J. Price lets one fly
(Photo courtesy Julian Henderson, Register and Bee)
---
GAME STATS
TEAM STATS
| | | |
| --- | --- | --- |
| | G.W. | OPP. |
| First Downs | 16 | 16 |
| Rushes-Yds | 38-161 | 26-161 |
| Pass YDs | 157 | 132 |
| C-A-I | 7-19-1 | 10-18-0 |
| Total Yards | 318 | 293 |
| Penalties-Yds. | 3-13 | 7-42 |
| Turnovers | 2 | 2 |
INDIVIDUAL STATS
| | | | | |
| --- | --- | --- | --- | --- |
| RUSHING | ATT. | YDS. | Avg. | TDs. |
| Gregory | 13 | 85 | 6.8 | 1 |
| Murphy | 18 | 60 | 3.3 | 1 |
| Price | 6 | 11 | 1.8 | 0 |
| H. Williams | 1 | 5 | 5.0 | 0 |
| | | | | |
| | | | | | |
| --- | --- | --- | --- | --- | --- |
| PASSING | ATT. | Comp. | Yds | TDs. | Int. |
| Price | 17 | 9 | 157 | 3 | 1 |
| | | | | | |
| | | | | |
| --- | --- | --- | --- | --- |
| RECEIVING | NO. | YDS. | Avg. | TDs. |
| Tarpley | 4 | 118 | 29.7 | 3 |
| Gregory | 3 | 23 | 7.7 | 0 |
| Fitzgerald | 2 | 16 | 8.0 | 0 |
| | | | | |
| | | | |
| --- | --- | --- | --- |
| KICKING | XPM-XPA | FGM-FGA | Pts. |
| Bracey | 4-4 | 0-0 | 4 |
| | | | |
---
SCORING
(1st Quarter)
Reidsville: T. Graves 2 run (Tuttle kick) 4:39
G.W.: Murphy 12 run (Bracey kick) 1:31re
(2nd Quarter)
Reidsville: T. Graves 2 run (Tuttle kick) 8:47
Reidsville: J. Graves 10 pass from Teague (Tuttle kick) 2:01
Reidsville: Pickard 40 interception return (Tuttle kick) 1:09
G.W.: Tarpley 54 pass from Price (Bracey kick) 0:28re
(3rd Quarter)
G.W.: Tarpley 15 pass from Price (Bracey kick) 4:19re
(4th Quarter)
G.W.: Gregory 19 run (Bracey kick) 6:51re
Reidsville: T. Graves 12 run (Tuttle kick) 1:44re
G.W.: Tarpley 44 pass from Price (Gregory pass from Price) 0:42re
---